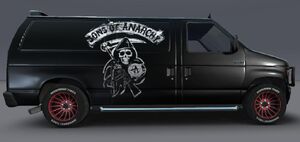 Vehicles are the main means of transportation in
APB:R
. Every player starts off with a starter car, the
Macchina Calabria 127
.
Leveling Contacts unlocks customizable and preset cars. Which are sold and customized in The Social District, via Kiosk and Marketplace. They're also sold in Action Districts via the Contacts themselves.
List of in-game unlockable Car Parts. List of purchasable Armas Car parts. List of Vehicles Manufacturer
Usage
Vehicles can be spawned from machines in action districts. Some higher-end vehicles need a small fee from $25-$100 for each spawn, your starter car and some others are free to spawn. The first spawn after connecting to a district is always free. Only you, your group, and teammates can enter a vehicle that you spawned. If you store something in a spawned car, an enemy needs to destroy your car to get the items.
Vehicles can also be taken from city NPCs or public parking lots. Once you leave these, everybody - even your enemy - can take them and drive away, so be careful what you put in them during missions.
List of vehicles
Preset vehicles
Note: Preset vehicles cannot be edited or customized.
Customizable vehicles
Enforcer only
Criminal only
Living City Vehicles
Note: Those vehicles are used by npcs in Financial and Waterfront districts
Balkan Kolva - Garbage Truck - Mixer
Dolton Broadwing (Taxi)
Han Cellante - Trexxon Special
Han Veo (Taxi)
Macchina Cosenza